We've talked, or you've heard me talk. You would like to get in touch, find some of my stuff, or work together. That's the main purpose of this page.
You may have promised to send me an article or a recipe for Palak Paneer, or I may have promised to send you something. Please drop me an e-mail and remind me.
Or head over to LinkedIn to see a list of things I've done.
---
Masterclass on motivation
If you recently attended my masterclass on motivation, this is where you will find my recommended readings and viewings, as well as my list of 18 strategies for what to do when motivation fails.
---
I am currently in the throes of finishing a book on the topic of design feedback. For that reason I find it extra useful to talk about the topic on pods and at conferences, as well as run session teaching people how to do it right.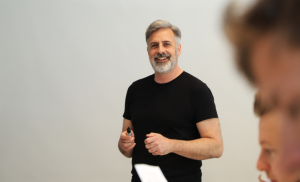 Photo credit: Ola Nilsson
---
A couple of years ago I wrote a cute little book on how to be more creative (a sample chapter can be found here).
I'd really like it if you bought a copy; either the lavish limited edition hardback or as a handy Kindle ebook.